Whats New with My Jeep?
i am still planning a 10 bolt front axle to swap in, in order to get some lower axle gearing. it will be in the 4.10 to 4.56 range,heavily trussed,and carry a dertoit EZ locker

i finally got tired of breaking spicer 18 transfer cases and am now running a twin sticked scout dana 20. ive broken 1 outputshaft to date,but despite that,i am happy with it and it is holding up much better than the 18s. unfortunately this swap has rendered my pto winch somewhat useless,as i do not have an appropriate dana 20 pto. the eventual plan is to rig up some valves and a hydraulic motor to power the winch,so it will be independent of future drivetrain swaps.
i picked up a dodge 435/203 that ill eventually be building a 203/205 doubler out of
ive also obtained a good running amc 360 that im considering dropping in in place of my 258
next big project will be some roll cage mods.im going to triangulate some of the bars,and add some bars for the seats to mount on,along with some stronger seatbelt mounts.
i have some super swamper TSL SXs to swap on in place of the hawgs,and of course,im still planning on modifying my nerf bars to hold pressurized water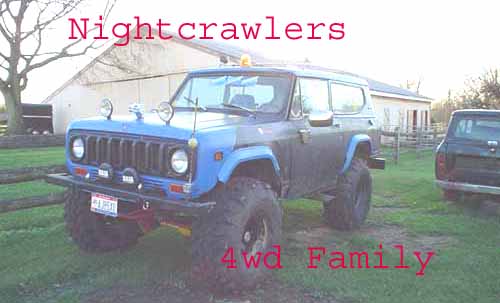 Whats New with the NightCrawlers?

continuinig issues with chevy style steering has caused dave to fab a cross-over setup,wich is working very well.
however,a recent rollover has left with with alot to do.some of the carnage includes almost tearing the rear spring hangers off the frame,and severe damage to the hood
jasin is in the middle of a 4.0 swap,and some unibody modifications to increase wheel travel
mikey has fixed his floors,but has recently blown up his 2.5,so we are searching for a motor for him.
uncle jack swapped the t19/d300 into his trail scout,and is no longer breaking transmissions. now he is breaking his rear 44. to date hes broken a pinion and a set of spider gears. we currently have a welded carrier installed,and are on the loockout for a 14 bolt to install at some point.
haze has not done anything with his trail rig in some time,but has replaced the engine in his daily driver 89 trooper. we are all very proud-he has been forced to drive a car for so long!